⭐️⭐️⭐️⭐️⭐️ ABSOLUTELY LOVE IT!
"My movement has improved 100% since I began taking this. I have more strength and energy and even my knees are better." -Kim C.
Maximize Your Performance, Strength & Recovery
5 Collagen Type( I,II,III,V,X) with MCT oil & Bone Broth will give you fundamental immune support and energy to tackle all daily deeds with ease.



Regular price
$39.99
Sale price
$25.99
Unit price
per
Sale
Sold out
Share
View full details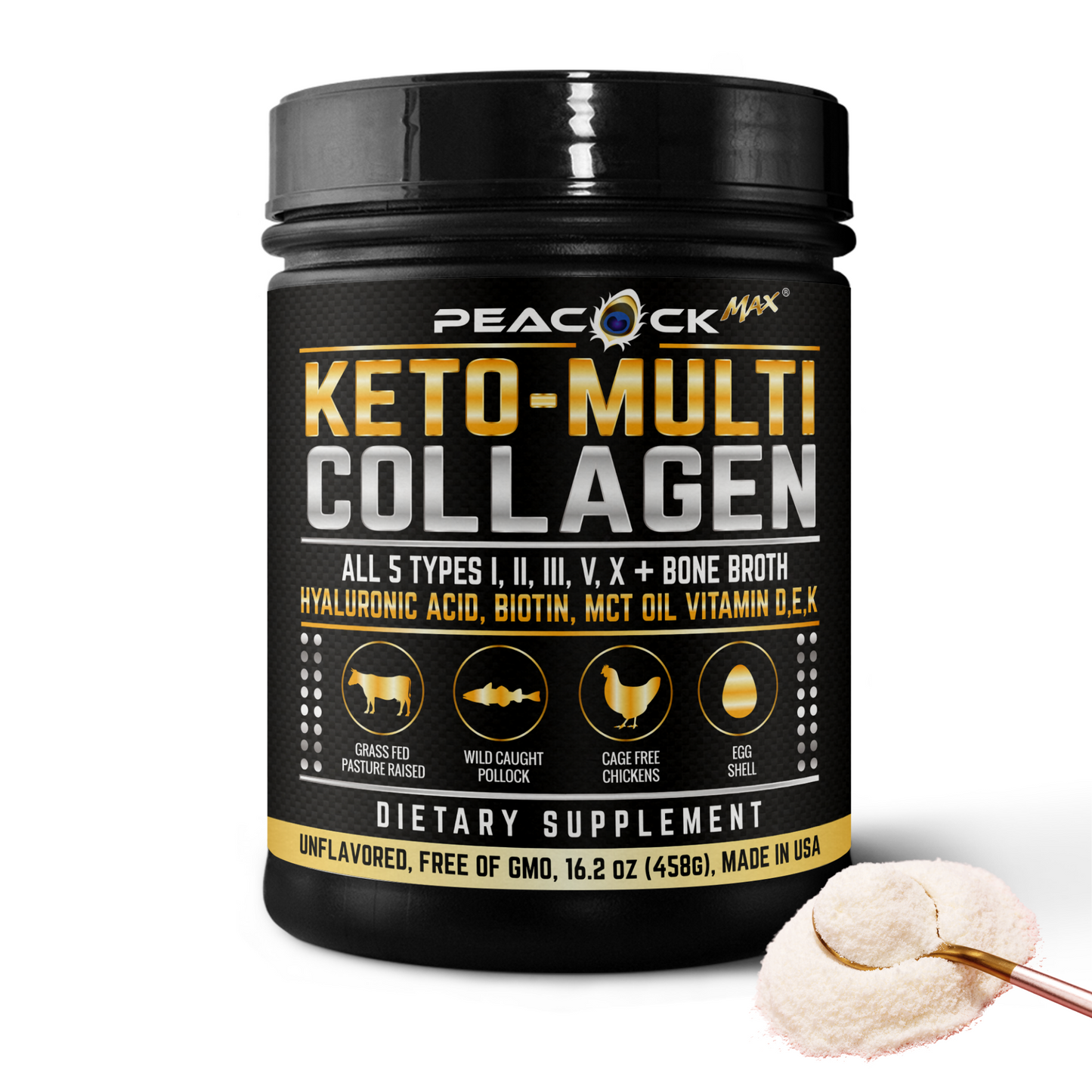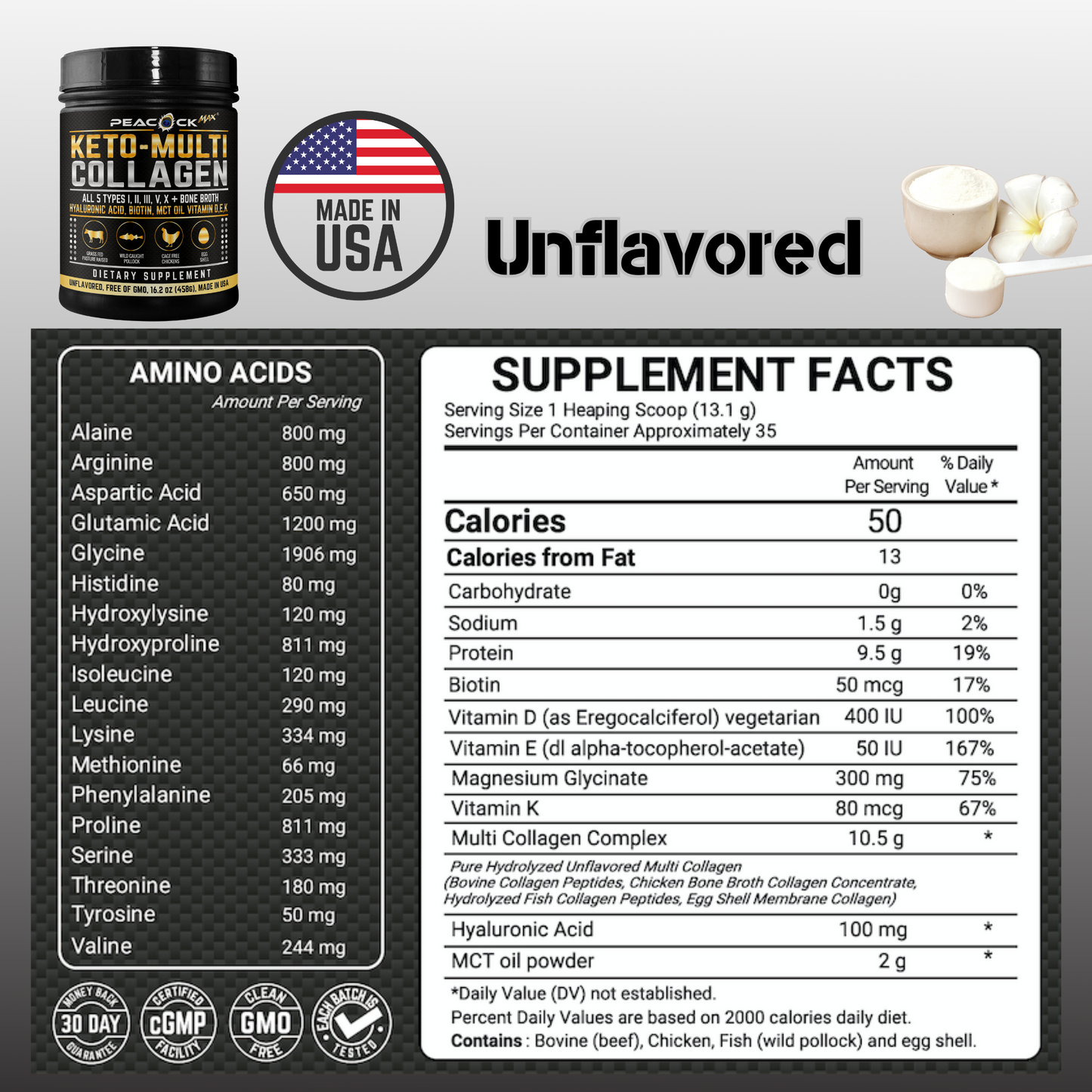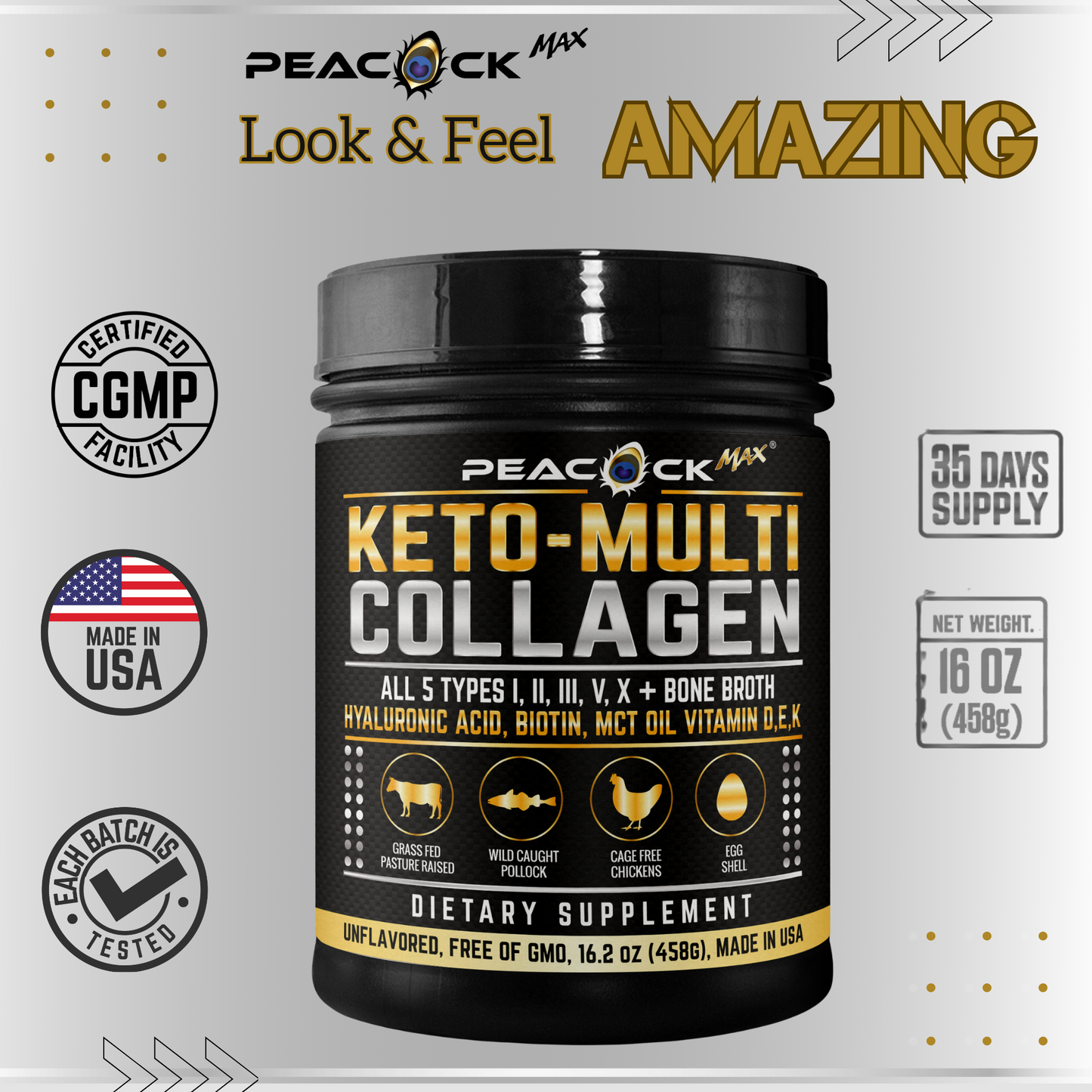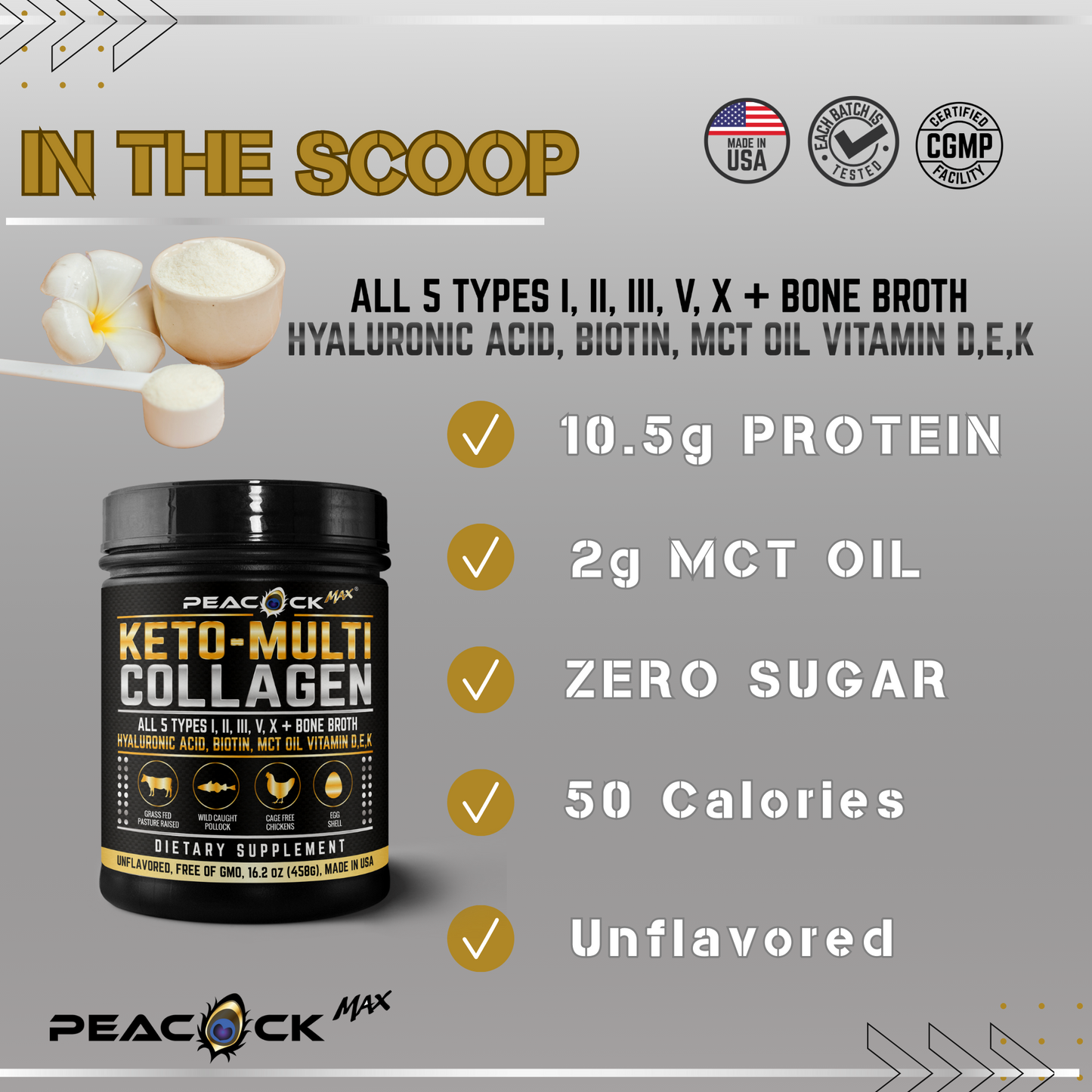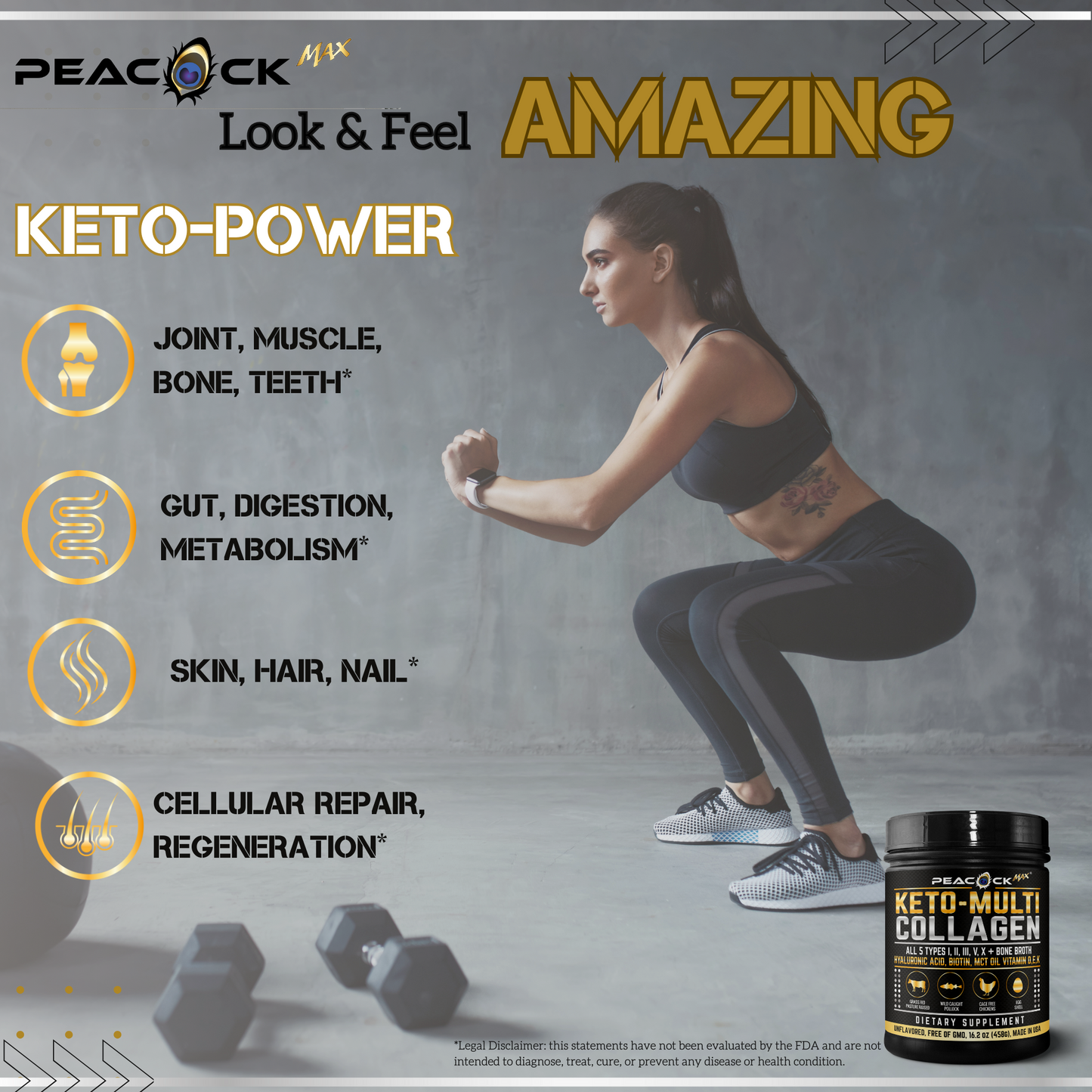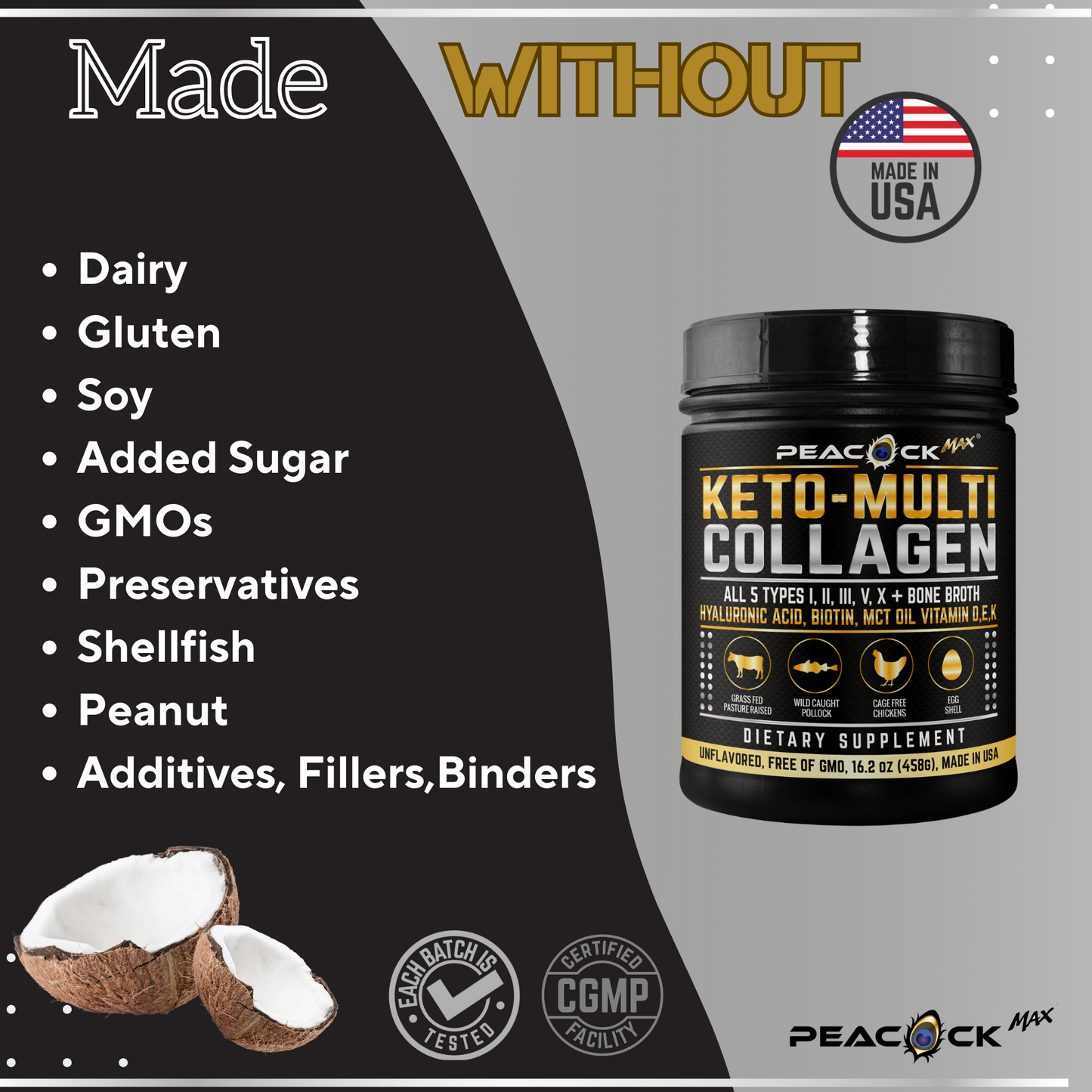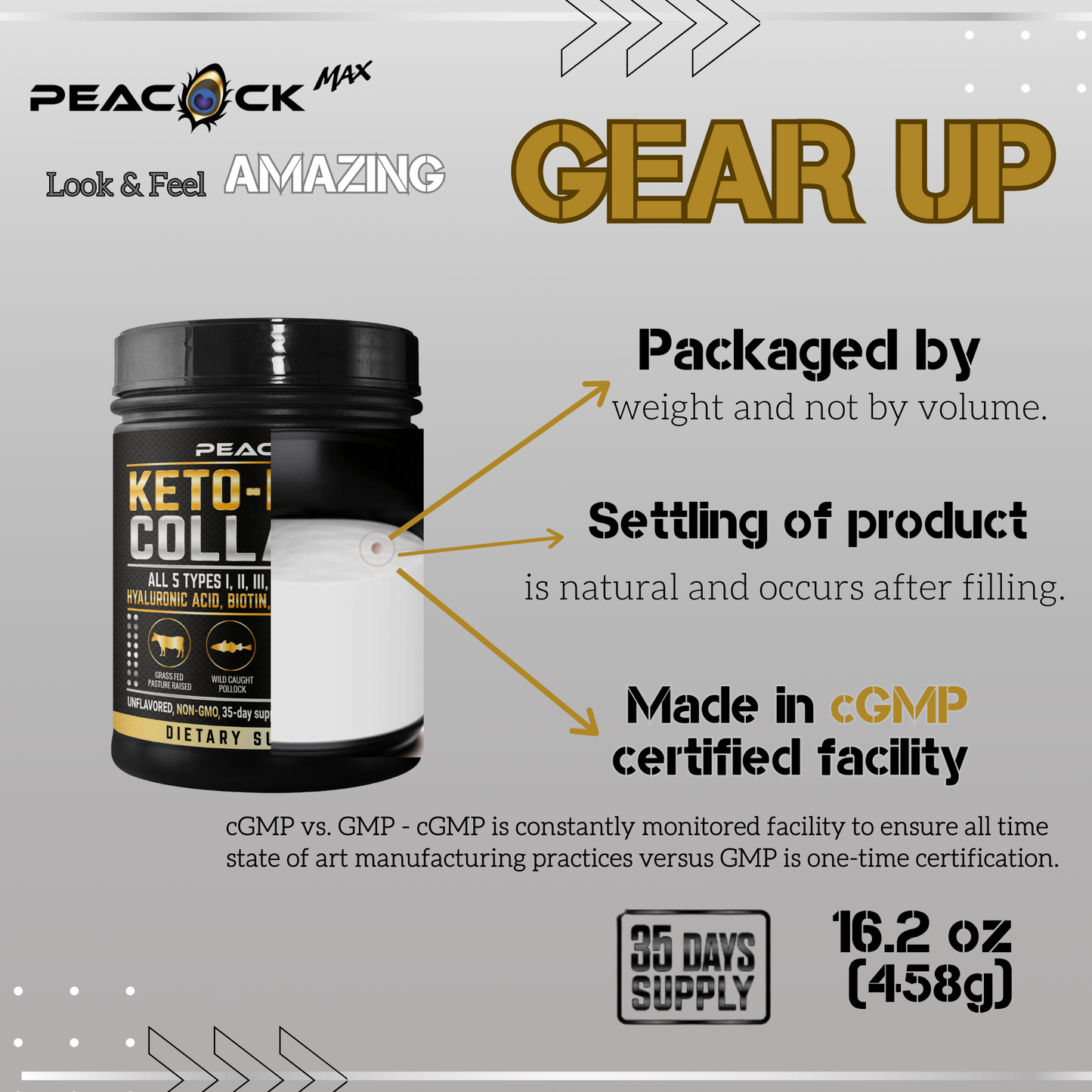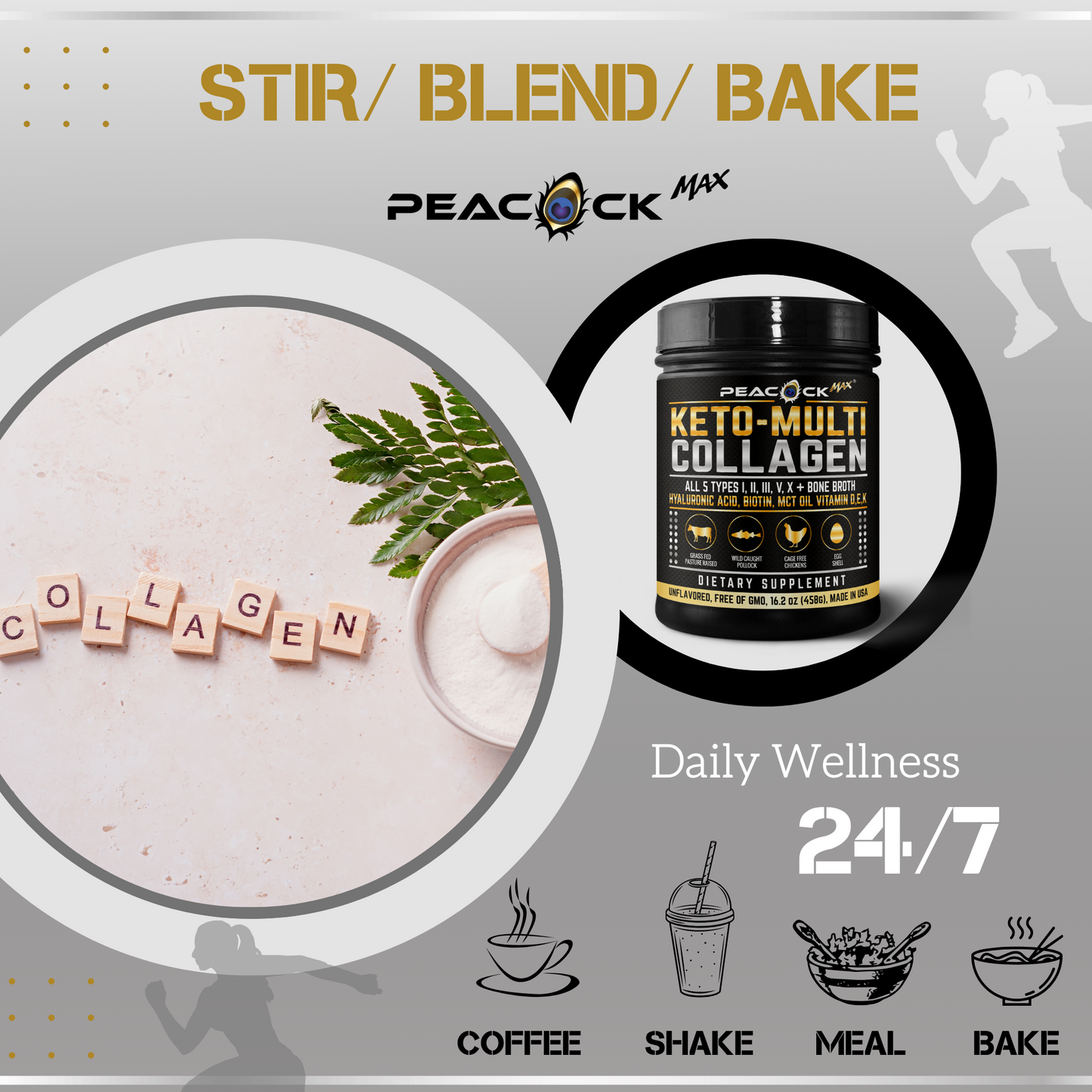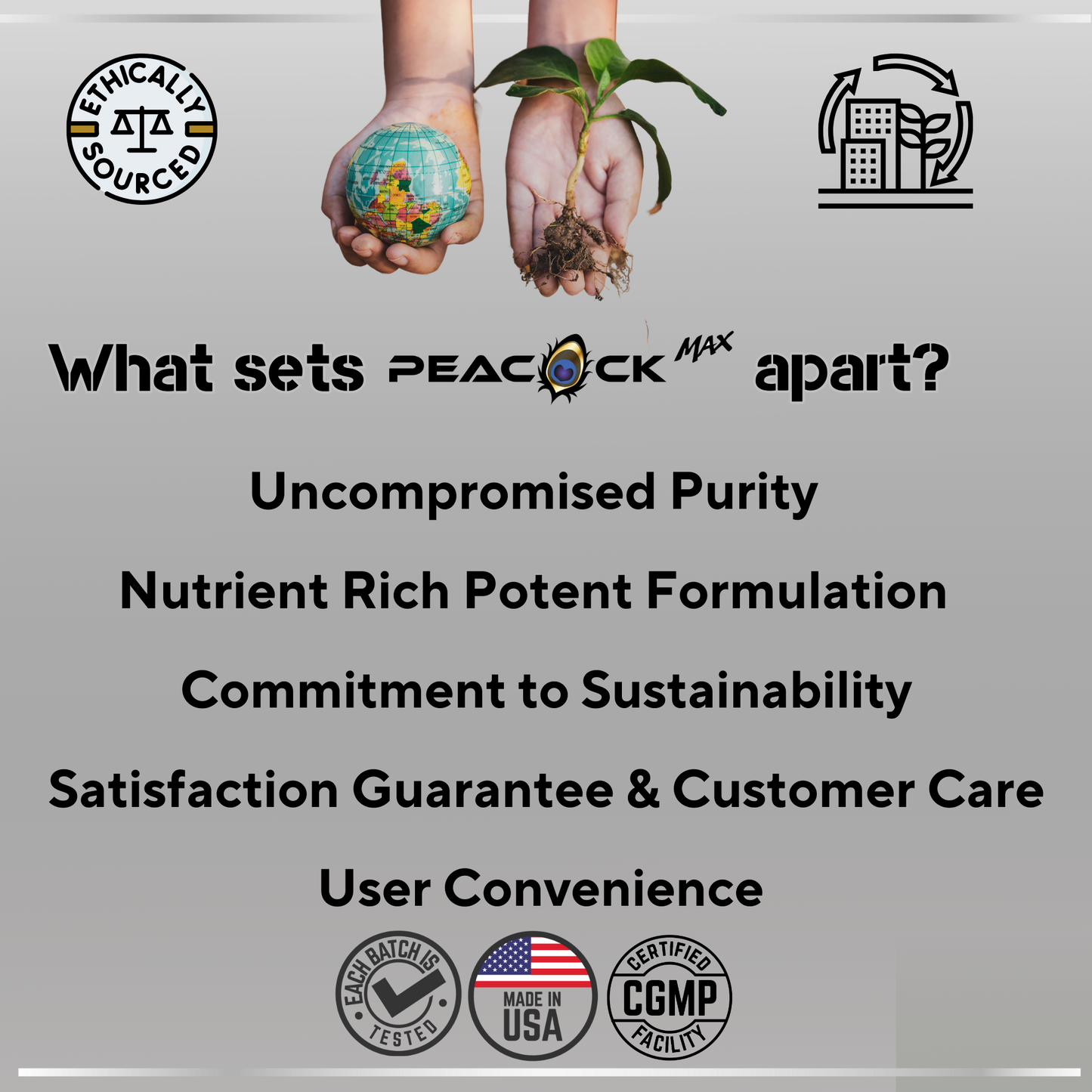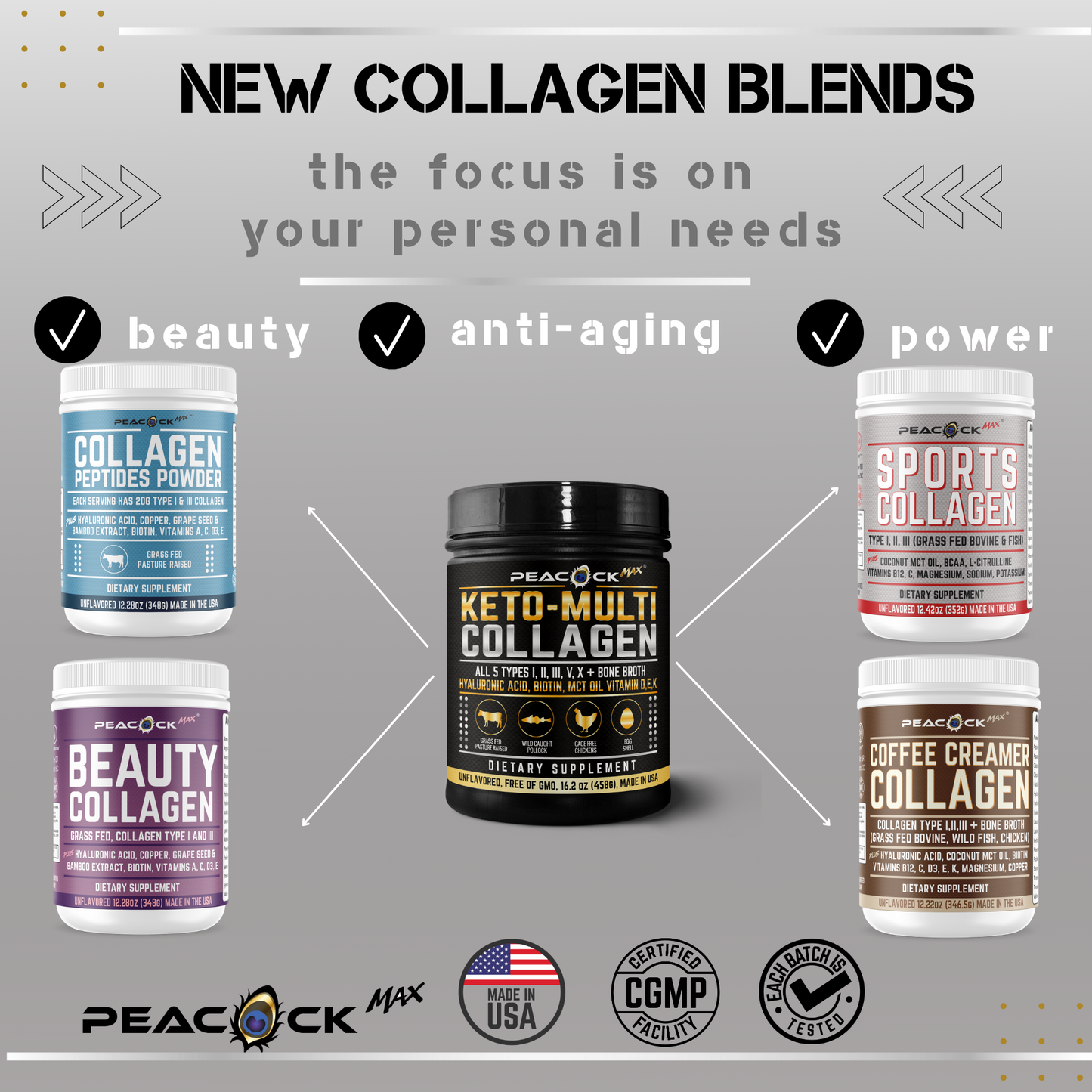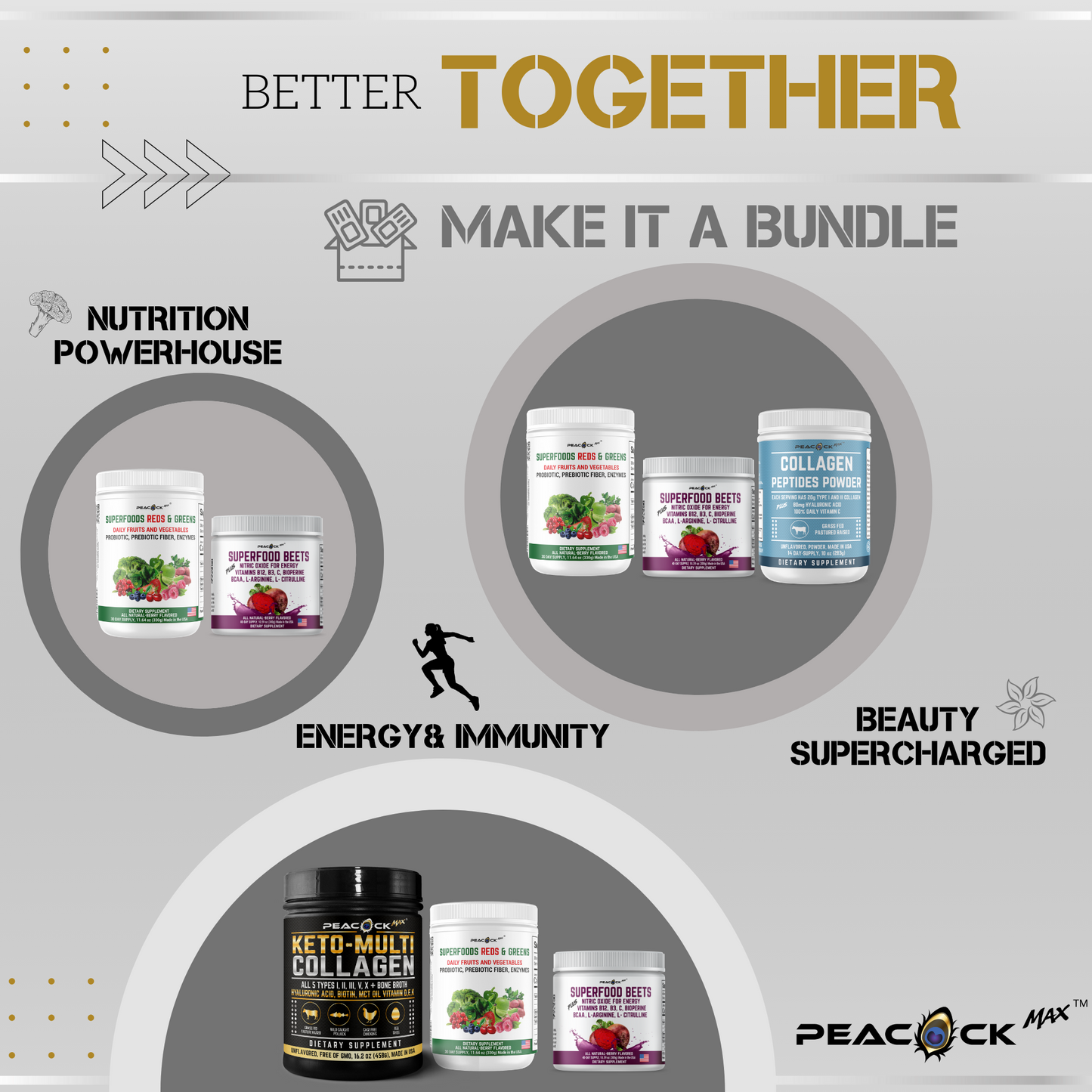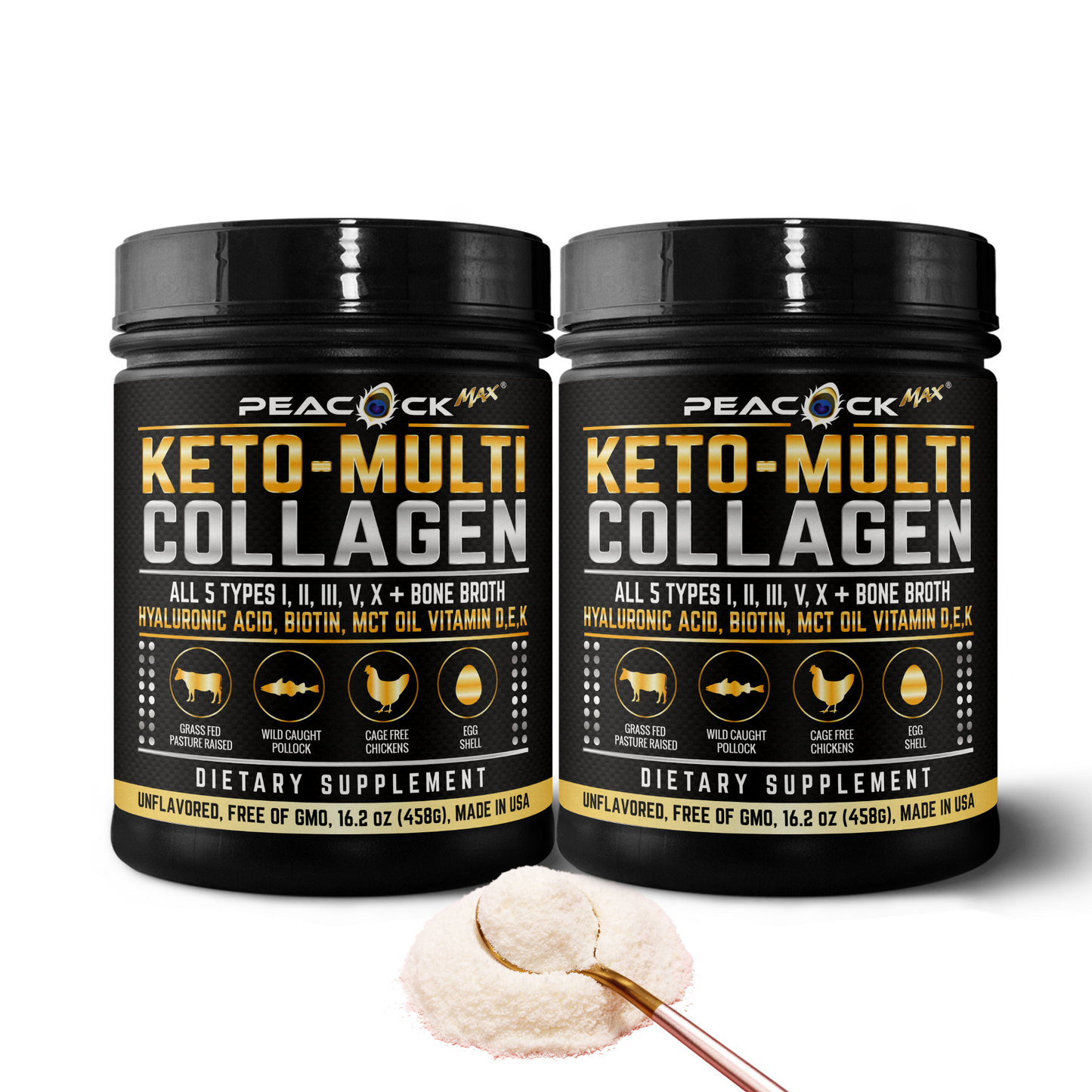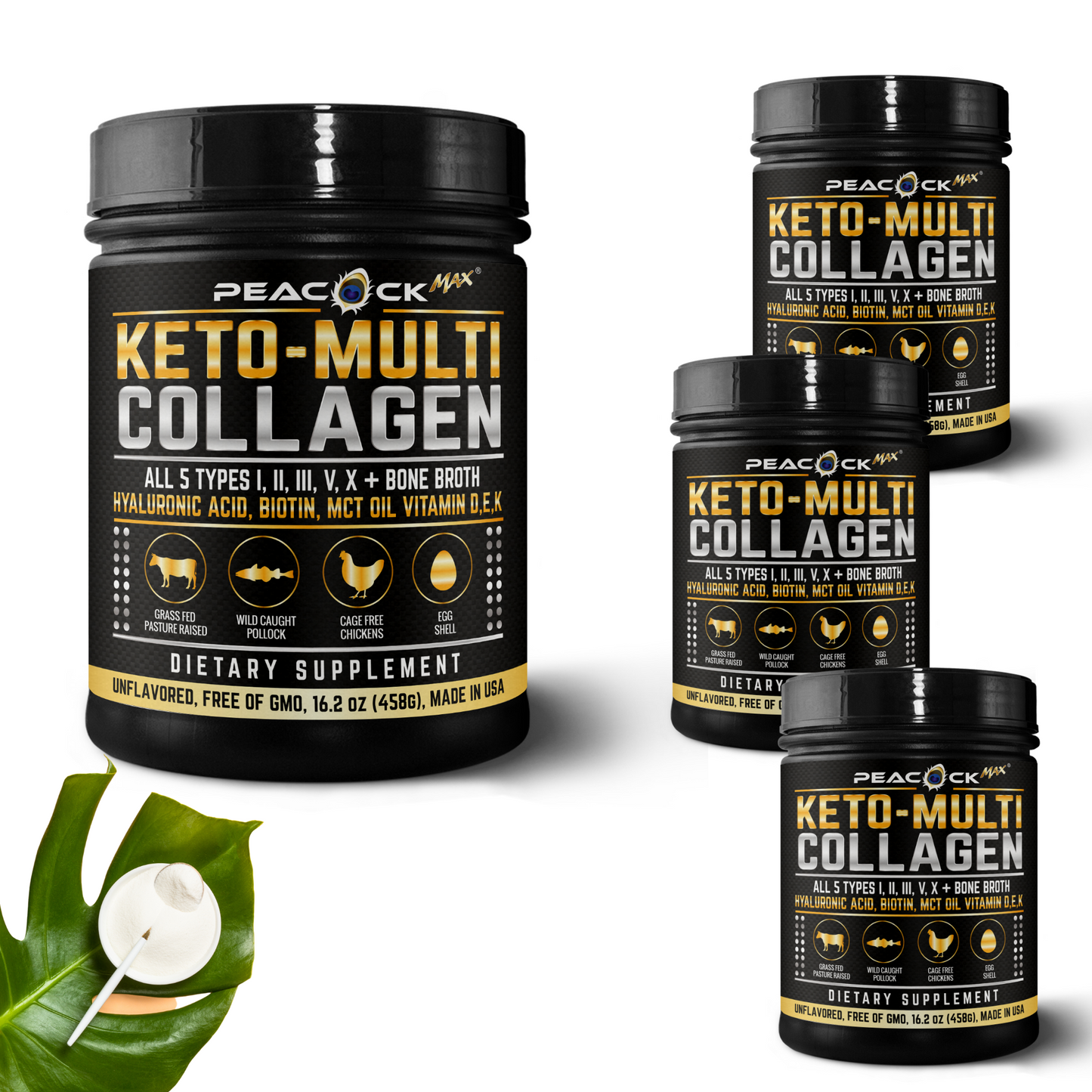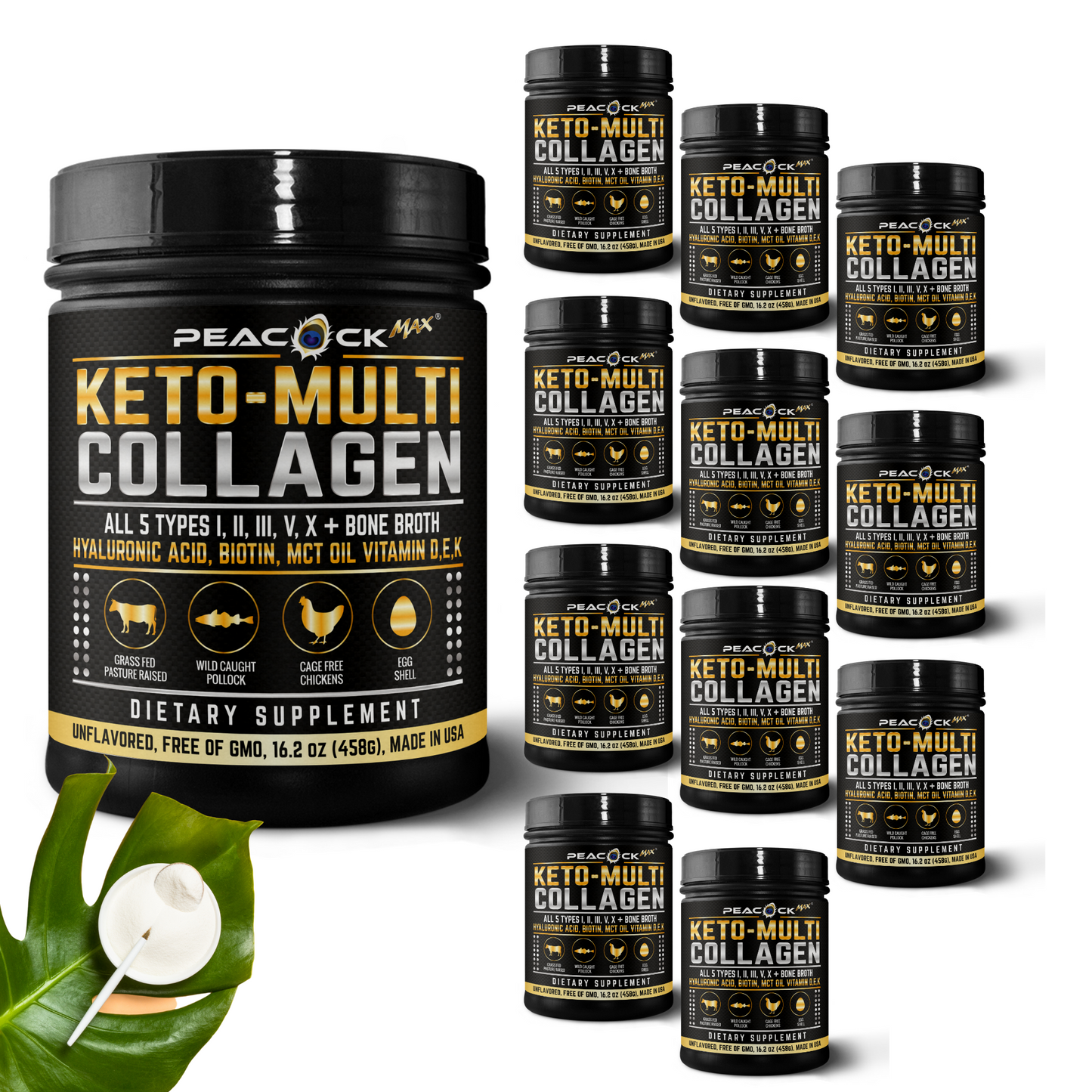 Fast delivery and great product! Will buy again!!
Love this product
After a couple months of using this product I have noticed my skin soften and my joints less stiff. It dissolves nicely in my morning coffee with a swirl or two of the spoon and no added flavor. Will purchase again.
Significant difference!
I have been using this product for a two months and I can see a big difference in the health of my hair! I have fragile, very curly and usually very dry hair, but since I have been taking this collagen from Peacockmax supplements my hair now feels more moisturized and silky and I'm also maintaining the length without much breakage and hair fall. I've also noticed that my feet are softer and I have faster recovery after working out. I'm very pleased with this product and will continue to purchase as long as it stays at its reasonable price Insha'allah.
As good as it comes in quality
Went a long time without the benefits of multi collagen because of the price. And then learned that peacockmax is from the same manufacturer as the more expensive products for a more affordable price. Thanks peacockmax
excellent product
im happy with this multi collagen and your price. best wishes
Peak Performance & Overall Wellness
Key Benefits

☑︎ Strengthens Joint, Bone, Teeth Health

☑︎ Optimized Gut, Digestion, Metabolism

☑︎ Healthier, Stronger Skin, Hair, Nail

☑︎ Faster Cellualr Repair and Regeneration

☑︎ Overall Wellness & Immunity Support
Ingredients

10.5g of collagen protein, including Chicken Bone Broth.

5 Types Collagen Peptides Hydrolyzed Collagen Peptides

Type I, II, III, V, and X,

⁍ Type I and III from Grass-Fed, Pasture Raised Bovine,

⁍ Type II from Wild Pollock Fish,

⁍ Type V from Cage-Free Pasture Raised Chicken,

⁍ Type X from Egg Shell,

⁍ Hyaluronic Acid,

⁍ Biotin,

⁍ Vitamin D , E, K,

⁍ Magnesium Glycinate
Flavor

Unflavored to please everyone's tastebuds and give you broad options to drink, cook, bake, mix it with your favorite drinks & dishes.
Details

Our ALL Natural Keto Multi Hydrolyzed Collagen Peptides Protein Powder has ALL 5 Type (I, II, III, V, X) of Collagen Powder Plus Bone Broth, Hyaluronic Acid, Biotin, Vitamin D , E, K, Magnesium Glycinate, 2g of MCT oil and it is Unflavored

 Our collagen contains: 

NO fillers, NO Gluten, NO wheat, NO Dairy, NO added sugar, NO soy, NO lactose, NO starch, NO corn, NO yeast, NO peanut, NO shellfish, NO carb, NO caffeine, NO stimulants, NO antibiotics or NO growth hormones,  NON GMO, No Chinese ingredients 

It contains only super absorbent medical grade ingredients. 

UNFLAVORED Easy to digest 

Dissolves easily into any drink, hot or cold. Mix into water, coffee, shakes, smoothies, yogurt, or oatmeal. 

MULTI COLLAGEN and BONE BROTH

Each scoop has 10.5g of collagen protein, including Chicken Bone Broth. 

5 Types Collagen Peptides Hydrolyzed Collagen Peptides

(Type I, II, III, V, and X) and Bone Broth 

Type I and III from Grass-Fed, Pasture Raised Bovine,  

Type II from Wild Pollock Fish  

Type V from Cage-Free Pasture Raised Chicken  

Type X from Egg Shell 

Our product contains ALL 5 types of  Hydrolyzed Collagen Peptides:  

Type I and III - skin, tendon, vasculature, organs, bone (main component of the organic part of bone) and used for strong hair, skin, nails and bones.  

Type II - cartilage promoting joint and cartilage health!  

Type V collagen contributes to the bone matrix, corneal stroma, and the interstitial matrix of muscles, liver, lungs, and placenta.  

Type X collagen is a reliable marker for new bone formation in articular cartilage.  

Hydrolyzed collagen supports hair, skin, nails, joints, muscles, tendons, ligaments, eyes, gut, heart & brain health.  

KETO - Each scoop has 2g of pure MCT oil powder, which supports ketosis. Better absorption so your body uses it for recovery instead of converting to glucose.  100 mg of

Hyaluronic Acid- for beautiful skin tone and texture, and deeper layer of cell regeneration

Also contains:

17% of daily Biotin

100% of daily Vitamin D (

as Ergocalciferol)

75% of daily Vitamin K

167% of daily Vitamin E (dl alpha-tocopherol – acetate)

75% of daily Magnesium Glycinate

FREE 3 DAY OR FASTER SHIPPING (USPS Priority mail  or FedEx 2/3 day)

GUARANTEED - Full 100% Money Back Guarantee, no questions asked. Try risk-free!

AMINO ACIDS- Hyaluronic Acid 100 mg – Alanine 800mg, Arginine 800mg, Aspartic Acid 650mg, Glutamic Acid 1200 Mg, Glycine 1906mg, Histidine 80mg, Hydroxylysine 120mg, Hydroxyproline 811mg, Isoleucine 120mg, Leucine 290 mg, Lysine 334mg, Methionine 66 mg, Phenylalanine 205 mg, Proline 811mg, Serine 333mg, Threonine 180mg, Tyrosine 50mg Valine 244 mg.   

TOP QUALITY MANUFACTURING IN USA -  Made in USA at one of the best FDA approved, GMP certified by Natural Products Association, UL/NPA certified for nutritional supplement GMP compliance, cGMP certified by FDA for proper monitoring and regulation of manufacturing procedures within facilities from equipment inspections to facility conditions to raw material quality. No one has more complete ingredients and no one produced at a better facility.  

EACH BATCH IS TESTED - 3rd Party Lab Tested for Purity & Potency. 

 SAVE MORE BY BUYING A MULTI PACK (2pack, 4pack or 12 packs)

-2 LB, 4 LB OR WHOLESALE 12  LB SUGGESTED USE

- 1 scoop of collagen with any hot or cold beverage or add it to any meal. 

PEACOCK MAX KETO MULTI COLLAGEN WILL GET YOUR LIFE BACK!

Try Out Our Supplement NOW, See – And Feel – The Amazing Results Yourself!

Click "ADD TO CART" While Supplies Last! 
Suggested Use

Mix 1 - 2 scoops daily with your favorite drink or meal.

Best Ways to consume:

1. Mix with your morning joe or smoothie

2. Sprinkle it over your salad or meal of the day.

3. Bake/Stir it into your healthy snacks.
⭐️⭐️⭐️⭐️⭐️
Helps reduce fibromyalgia pain
"IT IS AWESOME, My muscle pain was gone right away first few servings. I tell all my friends, how great it is."
- ROSEMARY F.-
*These statements have not been evaluated by the Food and Drug Administration. Products are not intended to diagnose, treat, cure, or prevent any disease. The information provided does not constitute medical advise.
Let customers speak for us